Vincent D'Onofrio Goes Western With The Kid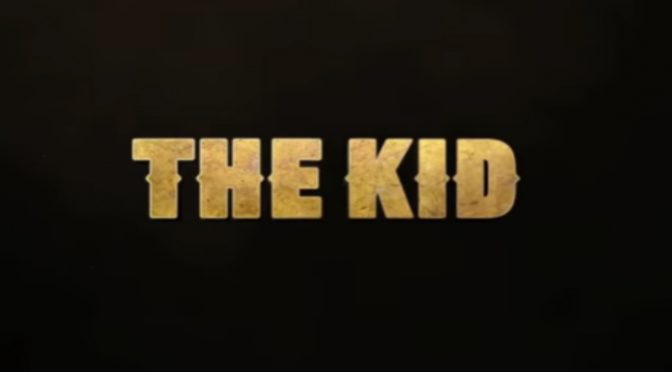 (SPOILER AHEAD, PARTNERS) Vincent D'Onofrio's second outing as director is the western The Kid. This movie is a far cry from his first feature Don't Go In The Woods. It's obvious watching Don't Go In The Woods that it's D'Onofrio's first film. He may have been in the acting business for more thirty years, but being a great actor doesn't always translate into being a great or even good director. D'Onofrio's skills as a director have improved a lot since 2o1o's Don't Go In The Woods. The Kid is a well directed, acted and scripted western more in the tradition of the older westerns than some of the grittier Westerns that have come out in the past few years.
HISTORICAL FACTS HOLLYWOOD TRUTHS
The Kid is a fictionalized account of Bill the Kid and Pat Garrett. Let's be honest, to a certain extent most movies based on historical events are fictionalized. If we started tearing apart historical based movies for accuracy and whether or not the lack of accuracy makes a good movie Braveheart would be one of the worst movies ever made. The Kid keeps a kernel of the truth intact regarding Billy the Kid.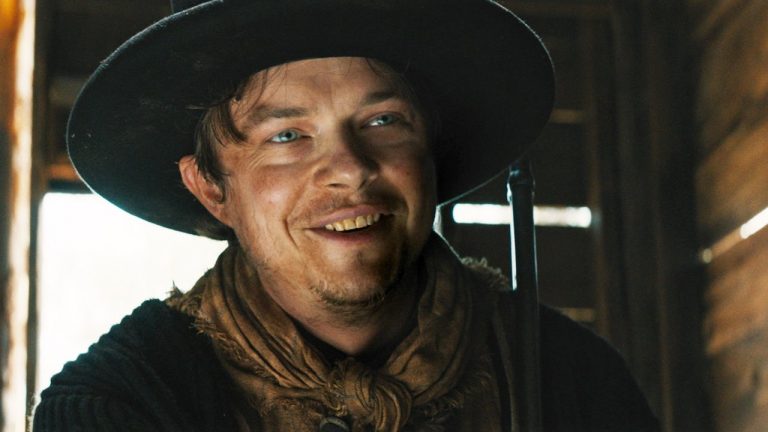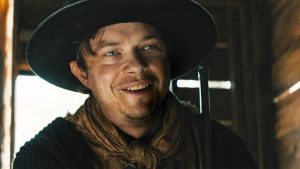 The movie starts after the Lincoln County War, but before Pat Garrett has caught Billy the Kid for the first time. It's a historical fact Billy escaped from a prison holding cell in Lincoln, New Mexico. It was here he killed Deputy Bell and Bob Olinger, played to asshole perfection by Adam Baldwin (Serenity). It's been debated how Billy died. Did Garrett shoot an unarmed Billy? Was it shoot out like Pat Garrett explains in his book? The truth may never be known.
THE KID
What's almost certainly not true is Billy running with a kid, however briefly, during his final days. The kid in the title of the movie is not Billy. The kid is Rio Cutler (newcomer Jake Schur). Rio kills his father after he has beaten his mother to death. Rio and his sister Sara (Leila George, Mortal Engines) escape their Uncle Grant (Chris Pratt) and head off towards Santa Fe, New Mexico to find their aunt. It's on the journey to Santa Fe they meet Billy the Kid (Dane DeHaan, A Cure for Wellness) and Pat Garrett (Ethan Hawke).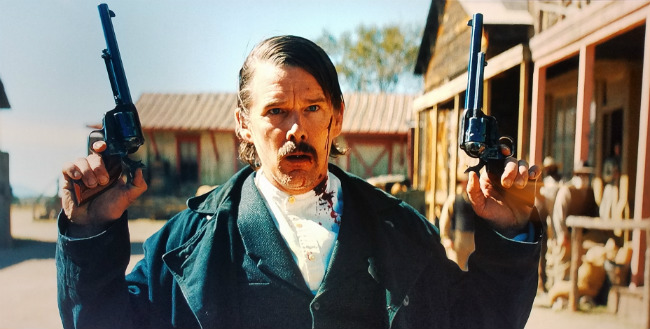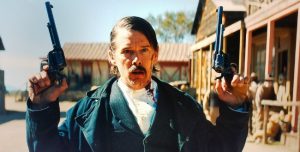 Rio is immediately captivated by Billy. Sara, on the other hand, is not. When Sara is kidnapped by their uncle it's Billy Rio turns to for help. It becomes quite clear though Billy is not interested in helping Rio or saving Sara. After Billy is killed Rio gets help from Garrett to save his sister.
CHARACTERS MAKE THE MOVIE
Ethan Hawke is a busy actor. Hawke has been in seven movies since his award winning role in First Reformed. He can't be accused of turning in a performance to move on to the next paycheck. His Pat Garrett, as opposed to other versions of the historical figure, is a man who knows what's right and what's wrong. He also knows when to bend the rules enough to help a kid who killed his father and help save his sister. The Kid may not be his best performance, but it definitely ranks high.
Chris Pratt usually plays the comedic role in the movie. Even his Peter Quill is sarcastic and wisecracking. What we don't see is Pratt playing the villain. Although Pratt sounds like he's doing an impersonation of Billy Bob Thorton's Karl Childers from Sling Blade his Grant is vile who turns his own kin out as a prostitute.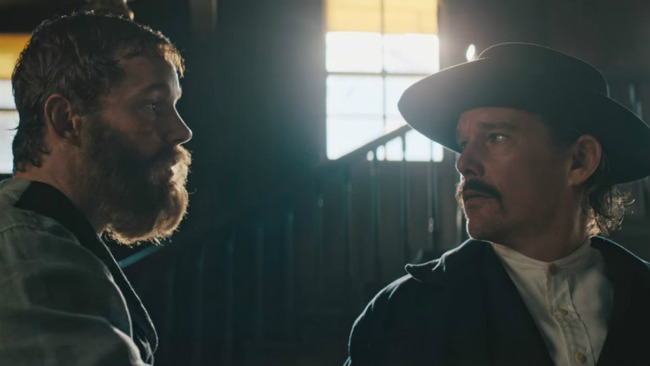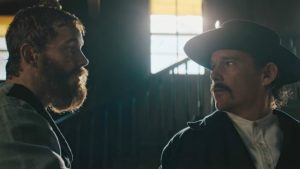 Billy the Kid has been portrayed as everything from serious killer (Pat Garrett and Billy the Kid) to joker (Young Guns). DeHaan plays Billy the Kid somewhere between the two extremes. He's a viper who will bite you if you're not paying attention. At the same time, he cares for his wife and shows a vulnerable side to Rio over whiskey. DeHaan may still be the actor who looks familiar to you but you can't place his name, but movies like The Kid will have you remembering his name.
FINAL SHOWDOWN
At its core, The Kid follows your basic Western formula. There's the villain, Grant, who's kidnapped someone close to someone else. Characters are looking for a form of revenge. A showdown between two characters ends the movie. It's a basic formula, but The Kid takes it to another level with good acting, directing, and a great score. At times it feels like a throwback to simpler Westerns from the Golden Age of the Hollywood Westerns. At times, like the final showdown, it feels like a more modern telling of a Western. Either way, The Kid should be viewed by any fan of Westerns. Remember, it's the story that matters.