A Merry Friggin Christmas doesn't even sound like it's pretending to be holly or jolly. Indeed, it's not. Boyd Mitchler (Joel Mchale, Community) and Virgil Mitchler (Robin Williams) are a son and father who haven't spoken to each other in years. Why? Because Virgil is an alcoholic Scrooge who ruined Christmas for a young Boyd. Of course, they're thrown back into each other's lives at Christmas.
The set up is somewhat original. Boyd's family returns home for the baptism of his brother's baby. As horrible as Boyd's Christmases were he is bound and determined to give his own son one last Christmas before he stops believing in Santa Claus. However, the poor guy's presents are left at the Mitchler house in Chicago. Boyd, being father of the year, and Virgil jump in Virgil's truck and head to Chicago for Project: Gift Retrieval. 
Is A Merry Friggin Christmas a Christmas classic? Well, not quite. Friggin is a little darker than most of your holiday fare. Scattered throughout the laughs are references to Virgil's alcoholic past. Donna, played by an underutilized Candice Bergen, tells Luann (Lauren Graham, Gilmore Girls) that when things got bad she would leave Virgil, but would come back to him later. She never says what "bad" was, however, we can infer from the expression on her face  that it was probably violent.
Even the funny scenes are tinged with a hint of darkness. Nelson Mitchler (Clark Duke, Hot Tub Time Machine) finds himself in the middle of Virgil and Boyd's road trip because he locked himself in a port-a-potty during a PTSD meltdown. His baby isn't his baby at all. It's actually an ex-girlfriend's baby who abandoned it with Nelson. Boyd's sister is married to a registered sex offender.
Christmas movies always have the one pivotal scene, after the scene where the family apologizes for years of being crappy to each other, that bonds the family together. Boyd, Virgil, and Nelson bond over how they're going to dispose of a homeless Santa Claus they hit with Virgil's truck. They decide on dismemberment. Yes, the Yuletide tradition of dismembering a body and hiding the body parts in different locations.
Normally at the end of a Christmas movie the whole family comes together and the audience is to assume life will be great for everyone. The end of Friggin leaves it up in the air.There are no apologies, no hugs between father and son, and no tears. Virgil is still drinking, but Boyd and Virgil seem to have buried the hatchet or at least they'll be able to move on from a childhood ruined by alcoholism.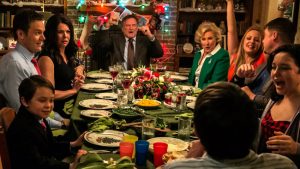 A Merry Friggin Christmas may not find its way into the Christmas Movie Hall of Fame. At times, the comedy is typical and forced. Other times, the comedy is dark. However, the scenes with Joel McHale and Robin Williams bouncing jabs at each other make up for the lulls in the movie. It's also worth watching Friggin to see Robin Williams in one of his last roles. Even at his worst, and A Merry Friggin Christmas is not his worst role, Williams is funnier than most other comedians on the big screen. Watch A Merry Friggin Christmas at least once and decide if it should be on your annual holiday rotation of movies.