Three That Got Away in 2022 Part II: Dead For A Dollar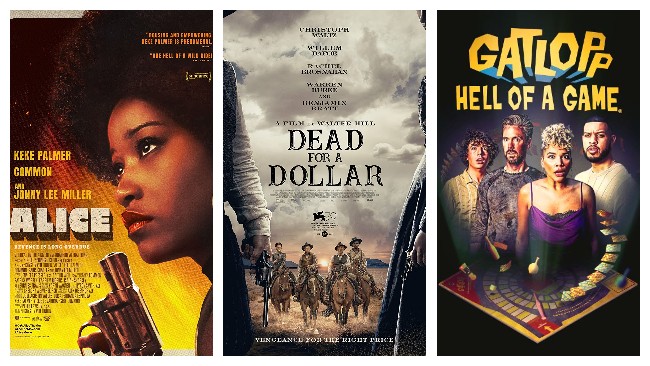 DEAD FOR A DOLLAR
    Walter Hill's filmography reads like a genre fan's dream. He was producer on every Alien movie in the franchise. He wrote, as well as directed, The Warriors, Paul Newman's The Drowning Pool, and The Getaway. His output in the 80s included 48 Hours, Another 48 Hours, Red Heat, and Streets of Fire. His Westerns include The Long Riders, Wild Bill, and episodes of the Deadwood series. In certain circles Hill is a legend.
    In 2022, Hill returned to the Western genre with Dead for a Dollar. Dead for a Dollar supports an impressive cast. Oscar nominated Willem Dafoe, two time Oscar winner Christoph Waltz, Rachel Brosnahan (The Marvelous Mrs. Maisel), Benjamin Bratt (The Great Raid), and Hamish Linklater (Midnight Mass) make up the main cast. 
     The story is pretty straightforward. Max (Waltz), is a bounty hunter hired by Martin (Linklater) to rescue his wife (Brosnahan) whom he believes was kidnapped by a deserter from the army. In the mix is Joe Cribbens (Dafoe) who runs into Max after being released from a New Mexican jail. Finally, there's Tiberio Varags (Bratt), the Mexican bandit who runs the territory. As luck would have it all of them meet for a final showdown. 

    The low budget quality of the movie should not turn people away from the movie. It's very apparent Hill shot on a shoestring budget. The sets are minimal, limited to one or two set changes. Even the quality of video screams "low budget" movie. It has the feel of an old school video that hasn't been seen since the direct-to-video store days. The pseudo sepia tone doesn't help matters much either. It's distracting because it's only used for outdoor shots while indoor scenes are lighted by a lot of light sources. If there is a reason for the choice it's not readily obvious except that Hill wanted to capture the look of Western. 
    No, the fact that Dead for a Dollar is a low budget movie should not scare you away from watching the movie. Plenty of directors have done amazing things on shoestring budgets. The story itself should also not scare you away from watching Dead for a Dollar. Although not wholly original, it's not the worst storythat has ever been told. Unfortunately, Hill did not do amazing things with a small budget and the story can't distract you from being aware of the fact that you are watching a low budget movie. What should scare people away from watching Dead for a Dollar is the cliched dialog and the bad acting.
    One would assume acting from an Oscar winner, a nominated actor, and Emmy winner would be a little better than what is on display in Dead for a Dollar. Waltz comes across as someone who didn't want to be on the set let alone in the movie. He delivers lines with no inflection whatsoever. The choice to deliver lines in a monotone would have made sense if  the character of Max had been presented as a tough-as-nails bounty hunter or if it was even hinted that he had no sense of humor. Neither of these things were told through the script or the story. Dafoe at least seems to be having fun with the dialog he's given. He delivers lines like "Goddamn Englishman went and committed suicide" and "You killed me" with corny enthusiasm that he knows the lines are bad. Brosnahan is the only stand out in the cast and that's if you can get around her doing an impersonation of Evan Rachel Wood from Westworld.
    The paint by numbers story probably won't do anything for the fans of the Western genre. When you take a critical look most Westerns are similar to each other. It's usually those Westerns that move away from the Score to Settle trope we talk about in a positive light or if that Western has done something different within the scope of the story. Hill's movie does neither of these things. Dead for a Dollar will probably appeal only to the most die hard of Walter Hill fans.