Welcome Fright Night To Blu-Ray, For Real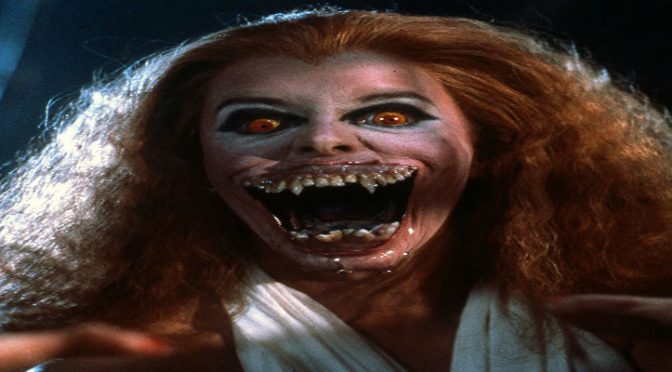 "Welcome to Fright Night…For real." Sony has finally released Fright Night domestically on Blu-ray. We're looking at the movie and the disc.
THE MOVIE
Thirty four years after its original release every horror and vampire fan should know Fright Night. For those who aren't familiar with Fright Night the story is simple. Teenager Charley Brewster witnesses his new neighbor murder an escort. He also thinks his neighbor is a vampire.
Convinced his next door neighbor is a vampire Charley sets out to kill him with the help of a has been horror actor and TV host Peter Vincent, The Great Vampire Killer. Out of concern for their friend Charley's girlfriend Amy and his friend Ed become involved in Charley's obsession.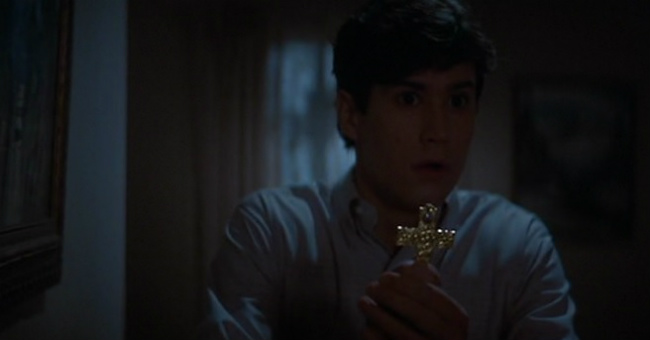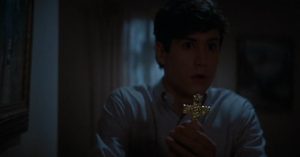 With a group of dedicated friends and a television horror host by his side ending the vampire's life should be easy for Charlie.Except Peter is a coward and his friends don't believe him. All that changes when the vampire, Jerry, kidnaps Amy and turns her into a vampire. Charley and Peter, with new bravado, face down Jerry to save Amy from spending eternity as un-dead vampire.
Fright Night was released in 1985. In some ways it's very much a product of the early 80's. A post-Peter Wolf J. Geils Band wrote and performed the movie's theme song,"Fright Night." In some scenes Amy wears the required 80's scrunchy and Jerry wears a scarf wrapped around his sweater. The music in the dance club scene is typical synthesized early 80's dance music.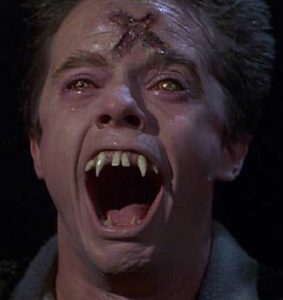 Unlike other movies that came out during the same time Fright Night doesn't play up the 80's elements. There are no neon colors flashing, no one is sporting the latest Walkman, no one is saying "gnarly" or "rad," or wearing spandex tights. Fright Night may have come out in the 80's but director Tom Holland avoided the trappings of the 80's. The movie doesn't feel dated. It's a horror movie that's just as relevant today as it was then.
THE CAST
Rowdy McDowall's career spanned decades. Perhaps his most famous role is Cornelius in the Planet of the Apes movies. Horror fans know him better as Peter Vincent, the Great Vampire Killer. It seemed every local channel in the 80's had a Peter Vincent hosting a late night or Saturday morning horror show on a public access network. Coincidentally, Cassandra Peterson, a.k. Elvira, Mistress of the Dark, got her start in the early 80's hosting a horror show in Los Angeles called Fright Night.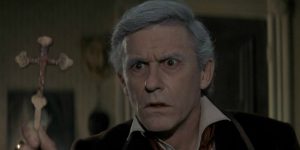 The TV version of Peter Vincent is not the Peter Vincent who shows up to help Charley. Vincent is no fearless vampire killer. He crumbles moments after his first encounter with vampire Jerry. McDowall plays Vincent as a character in a constant fight or flight mode, but the character has heart. Watching McDowall struggle between helping a dying werewolf Ed and leaving him to die is heartbreaking.
In the history of actors who have played vampires Chris Sarandon's name is rarely brought up. Maybe it's the character's name, Jerry. Jerry doesn't sound intimidating or frightening as Count Orlok or Dracula or Santanico or Barnabas. Jerry is pretty a plain name.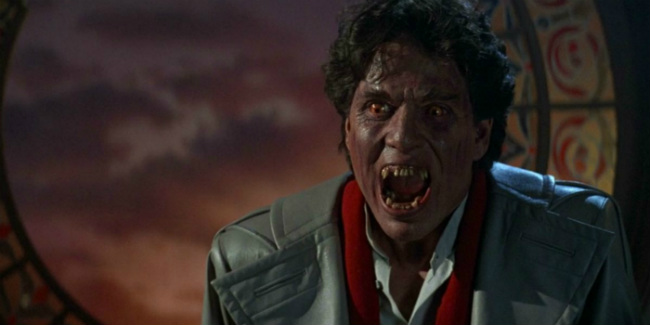 Sarandon plays Jerry as anything but plain. Jerry is suave, sophisticated, and charming. He charms his way into the Brewster house and even charms Vincent and Charley's friends into believing nothing is wrong. Jerry may be a plain name, but between the name and his charm Dandrige is possibly more frightening than other vampires with more insidious names.
Fright Night was William Ragsdale's first starring role. Amanda Bearse and Stephen Geoffreys had starred in lighter movies before landing roles in Fright Night. Although none of the actors were teenagers when they made the movie they made us believe they were teenagers.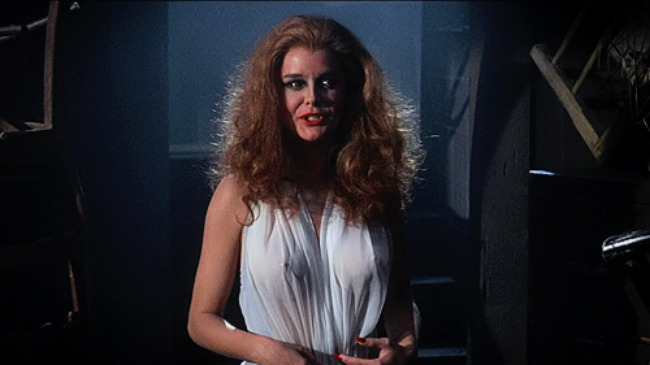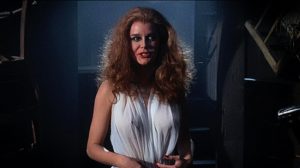 Fright Night, unlike today's movies with or about teenagers, isn't trying to make these teenagers any more sophisticated than teenagers actually are. These teenagers are caught up in something a little bigger than they are and trying to make sense of it all. They're teenagers the way teenagers may really act if faced with a neighborhood vampire.
THE BLU-RAY
Finally, Sony has released Fright Night on Blu-ray. There are previous editions of Fright Night on the market. For years fans only had foreign releases and really expensive editions to choose between. $150.00 for a single Blu-ray may be a lot for even the biggest fan to swallow. The imported versions were the easiest way to go for fans if they wanted to add the extra cost of a region-free Blu-ray player to the cost of the Blu-ray. For the more cost conscience fan the DVD is still available at a very reasonable price. For a temporary fix fans could always stream the movie, but even then the quality of the picture was hit or miss.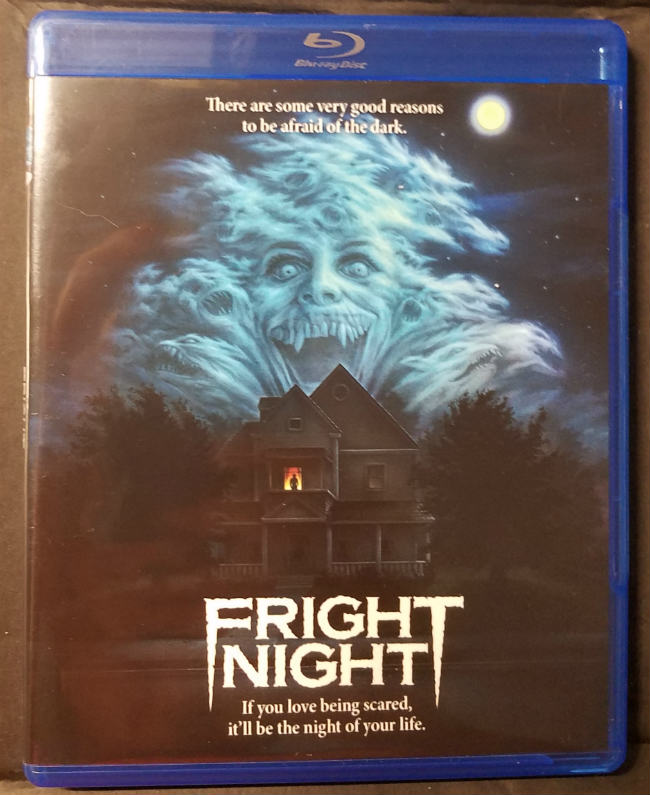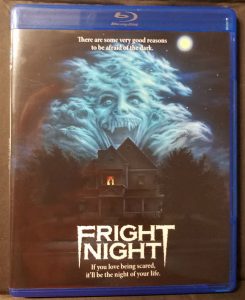 Sony has done a great job restoring the picture. The colors pop off the screen. You won't get the clarity this Blu-ray offers in a DVD or from any streaming video. Dozens of viewings on grainy VHS copies with lines traveling up the screen obscured a lot of details. The picture is so clear it was the first time I personally noticed the coffee mug Charley grabs a pencil from is a University of Iowa Hawkeyes mug.


EXTRAS
The Blu-ray is packed with extras. There's two audio commentaries with director Tom Holland, Jonathan Stark (Billy Cole), Chris Sarandon, William Ragsdale, Stephen Geoffreys, and members of the special FX team. There's also two featurettes "What is Fright Night" and "Tom Holland: Writing Horror" that basically rehash the same material. The Blu-ray also includes a panel with the cast from Fear Fest 2. Again, there's nothing new here after watching the previous featurettes. However, fans of the movie will still devour these extras.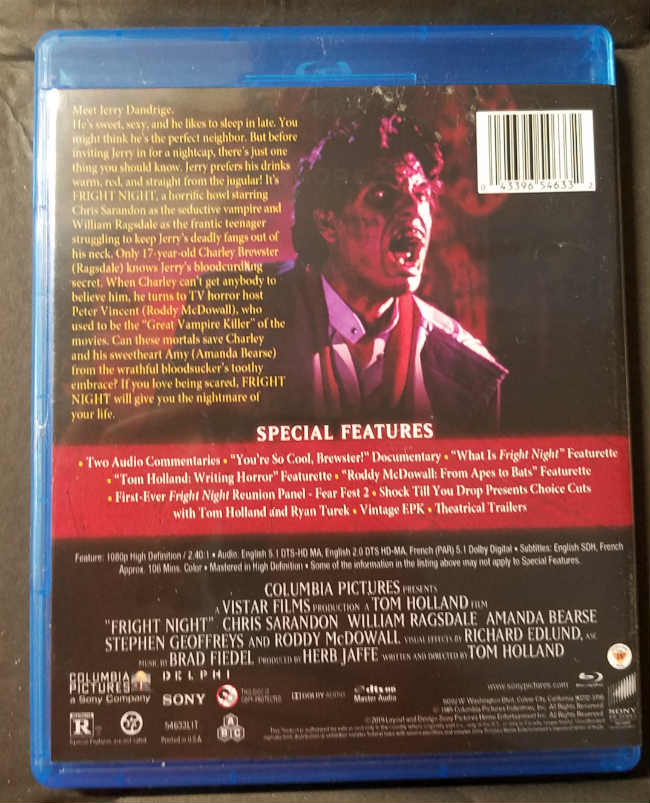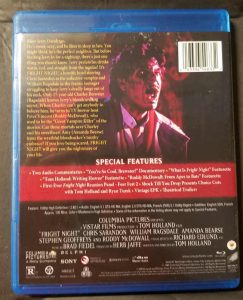 Shock Til You Drop use to be the go to website and YouTube channel for horror fans. However, it's no more. In its place is comingsoon.net. The website now covers most movie and entertainment news. One episode of Shock Til You Drop has made its way onto the Blu-ray. "Shock Til You Drop Presents Choice Cuts with Tom Holland and Ryan Turek" is a pretty informative and fun interview with Tom Holland.
The stand out feature of the Blu-ray is the documentary "You're So Cool, Brewster." The documentary covers everything any fan would want to know about the movie. Director Tom Holland, the entire cast, and crew share stories from the set and how the movie was made. You could watch the same documentary on Shudder or you can get the Blu-ray and watch when ever you want.
IN CLOSING
Yes, you could stream Fright Night from any one of the many available streaming services. However, you're not going to get the picture quality the Blu-ray offers. You're also not going to get the extras. More importantly, streaming services lose rights to movies all the time. How many times has a movie you wanted to watch stopped streaming on Amazon or Netflix? Blu-ray isn't at the mercy of a licensing deal.  Watch whenever you want to watch.