By now you know Star Wars: The Force Awakens hit cineplexes nationwide this past Friday. You also know the movie broke every weekend and opening day box-office record there is to break. The Force Awakens could be the first movie ever to break 2 billion dollars. That's 2, t-w-o, billion dollars.
What's more impressive are the products and companies Disney teamed up with to market the movie. You name the company, they're probably using Star Wars as part of an ad campaign. Some products make more sense than other products. Of course, there's the fast food tie-ins. That's nothing new. Fast food cross promotions have been around for decades.
Verizon makes a certain amount of sense. But Pandora charms and bracelets? Cover Girl makeup? Really?  Personally, I think there was a lost opportunity not cutting a deal with Maybelline. I can hear the slogan right now: "Maybe it's Midichlorians. Maybe it's Maybelline."
I'm not complaining in the least bit. Really, I'm not. I'm not offended. I don't think anyone has sold out when I see a Jeep/Star Wars commercial.  I get cross promotions and ad campaigns.Personally, the cross promotions and tie-ins I like the best are the figures, toys, and other pop culture tie-ins.
There's always one or two pieces in a "toy" crate that misses the mark. A piece that seems randomly thrown in or the box seems light for the price. This month's Loot Crate Star Wars limited crate hit it out of the…cosmos ( Thought I was going to say "galaxy," huh?)
The t-shirt is a stylized version of BB-8. It's a very simple design, but sometimes the best designs are the simplest designs. The yellow circles that make up BB-8 pop off the blue background. It's a good quality t-shirt that seems like it will hold up after multiple washings. However, the shirt is cut a size smaller than the tag reads. As my t-shirt tester said after putting on the skin tight shirt,  "Maybe Loot Crate wanted you to look like BB-8." If you're looking to buy the shirt off Amazon or Ebay make sure you buy a size larger than you normally would.
The tuque, toboggan, knit hat, beanie, or whatever you like to call it, and scarf are a great pairing. The scarf has the Rebel and Imperial logos and the hat has AT-ATs stitched on them with obligatory "Star Wars" added in for good measure. There's no tags to let you know what materials were used in their manufacturing. I can only assume it's some synthetic material or another. More importantly, both seem like they will keep you warm on a winter night. If you live in the South, where temperatures still seem Spring-like and forecasters are calling for a 70 degree Christmas day, you may want to keep them in the box. However, if you live in North or Midwest I'd say both will keep you cozy and warm. 
Who doesn't want or need a Mr. Darth Vader Potato Head? Everyone, everyone needs a Mr. Darth Vader Potato Head. Unlike the Mr. Potato Head of your childhood with pieces you could add and remove, the special Star Wars Potato Head only has the pieces that make the Potato Head a complete Darth Vader. All the pieces do come off so if you have another Mr. or Mrs. Potato Head you could mix and match. It may not have many pieces, but what's there is pretty fun. What it lacks in pieces it makes up for in smiles. You can't help but smile when you see the little guy. Remember, smiles are just as important as trusty blasters when it comes to crushing the evil Sith.
Perhaps, and this may sound odd, my favorite piece in the box is the The Little Golden Books Star Wars series adaptations. The stories are brief, but the authors do a great job condensing each story and making it easy for young children to understand. The art is great. The Little Golden Books somehow even managed to make the first three movies sound good. George Lucas should have had hired this team before filming The Phantom Menace.
There's also a comic book in the crate. It's called Vader Down. I couldn't and won't try to figure out where in the whole Star Wars mythologies the comic fits. It may not even be "canon." The art is good, much better than the art in your typical comic book. The character's dialog though is typical comic book dialog. As a fan of the Star Wars movies and not the zillion comic book and novel spin-offs, the comic book is not for me. However, the completist and comic book fan should enjoy it.
The smallest piece is perhaps the best-constructed piece in the crate. To be honest, I have not had the time to put Ren's command ship together, but I have had Metal Earth models in the past. The models, once completed, are sturdy because each model is created from a sheet metal. The little models also pack a lot of detail. I'll post pictures as soon as the model is finished.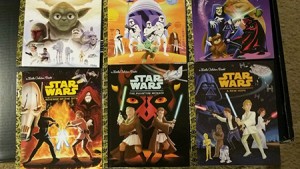 The final piece of the crate, which some could argue doesn't belong, is the Rebellion pouch. It's billed as a gadget pouch, but you could put anything in it. If you're a budding artist you could use it to hold pens or pencils. Use it to hold your toothbrush, toothpaste, and deodorant for those weekend trips to scenic Dagobah. The stitching is solid as are the material used to make the pouch. Being the fashion-forward Jedi that I am, I am going to use mine to carry my bedazzled lightsaber.
Loot Crate puts a lot of thought into each box every month. The Limited Edition Star Wars crate is no exception. Any Star Wars fan would be ecstatic if they got this for Christmas or Hanukkah.