Can you hear that sound? It's the sound of Old Man Winter packing up his snow and his ice and hitting the road.The snow has melted, Spring is settling into town.
Ah, Spring, it's the time of year a young man's fancy turns to love and this man's fancy (Hey, I'm still young!) turns to baseball.
Opening day is almost here, folks. It won't be long before the sounds of cracking bats and the roar of the crowd fills the air. You can almost smell the peanuts and taste the watered down beer. So, I ask, "What better time to take a look at the best baseball movies?" The time is right now, of course.
The Sandlot, like Stand By Me, is about  a group of children who during one memorable summer form a bond that will last a lifetime.  Whereas Stand By Me centers around a dead body, The Sandlot revolves around baseball and how a group of kids formed a bond thanks to the game. It's also more about a boy finding himself than a coming-of-an-age story like Stand By Me.
The Sandlot is the most "family friendly" movie on the list, but don't let that scare you off. "Family friendly" usually means no one over the age of 5 will enjoy the movie (unless they fake it), but that's not the case with The Sandlot. Everyone who was a kid will enjoy Scotty Smalls and the gang bonding over baseball, youthful hijinks, and the meanest, child-eating dog you've ever seen.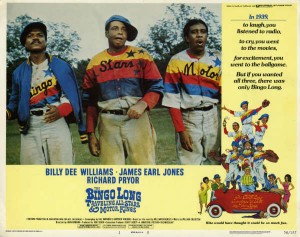 Wouldn't it be cool if Lando Calrissian and Darth Vader were in a movie together? I mean as friends. Well, it happened in The Bingo Long Traveling All-Stars and Motor Kings.
In 1976, Billy Dee Williams and James Earl Jones lead The Bingo Long Traveling All-Stars and Motor Kings, a traveling barnstorming baseball team, state to state playing other Negro baseball teams. They were playing on their own terms and sticking it to The Man at the same time. However, The Man doesn't like things being stuck to him.
When the owners cancel all games between their teams and the All-Stars Bingo Long (Billy Dee Williams) and Leon Carter (James Earl Jones) decide to play against what the United States has enough of, "white folks." It's at this point the movie gets funny (Richard Pryor's Charlie Snow trying to figure out new ways to come up with his batting average is priceless) and at times serious (especially when it looks like the end of the team).
BLTMAK is a movie that will make you laugh and make you believe that if you stick with something, and if you fight hard enough, sometimes you can achieve your dreams.
Have you heard the story about the one-legged pitcher for the Southern All-Stars? No, it's not the setup for a joke, it's The Stratton Story starring Jimmy Stewart. Stewart plays Monty Stratton, an amazing pitcher discovered in farm country, who becomes an all-star major league pitcher. On his way to the top Stratton loses his leg in a hunting accident. However, Stratton overcomes his limitation to pitch one final game.
Stewart plays Stratton in his famous "every man" style. It works for The Stratton Story and makes the relationship between his wife, Ethel (played by June Allyson) and his struggle to overcome the fact he won't pitch again more believable. The movie is from a simpler time in Hollywood, but it still ranks as one of the best baseball movies ever made.
Although The Bad News Bears (Come on, the original, man) may have kids playing little league baseball it's nowhere near as family friendly as The Sandlot. In fact, the kids on The Bears would probably beat up the gang from The Sandlot. Or try to beat them up.
The Bears are horrible fighters and even worse baseball players. They're so bad no one will coach the team until Morris Buttermaker is forced into becoming their coach.
By now the story is familiar: A coach doesn't want to coach a team, but somewhere along the way he turns it around, becomes a better person, and the team wins the big game. However, the Bears don't win the big game, but they do become a better team, drink beer, and clean pools along the way. Hollywood doesn't make movies like this anymore.
If you haven't seen The Bad News Bears queue it up, sit back, and enjoy. You won't regret a second.
Movies dealing with racial issues often fall into a couple of different categories. You have movies that paint every white person with the same racist brush. Other movies, on the opposite end of the spectrum, eliminate any efforts made by white Americans. Some movies, like The Help, discount the struggles African-Americans had to make to be equals in the United States. 42 sidesteps many tropes plaguing these types of films and delivers a powerful film about Jackie Robinson, Branch Rickey, and the integration of major league baseball.
Even if you're not a baseball fan you know how the story ends. However, a  story like this is about the journey to the end. It's an amazing journey with an outstanding performance by Chadwick Boseman and Harrison Ford at the top of his game.
Watch 42 and you'll be cheering for Robinson all the way to the credits.
The minor leagues can be rough on a baseball player. Just ask Ebby Calvin "Nuke" LaLoosh. He's got a million dollar arm, a five cent head, and a mentor that busts his balls every day.
Bull Durham has just as much to do with love, romance, and friendship as it does baseball. Baseball is the canvas Ron Shelton used to paint a love rhombus on  between Annie Savoy (Susan Sarandon), Nuke LaLoosh (Tim Robbins), Crash Davis (Kevin Costner), and baseball.
The Natural is the closest thing to a baseball fable/fairy tale you will ever see on the big screen. How can you tell? Lighting greets Roy Hobbs (Robert Redford) at his first professional at bat and says goodbye to him at his last. The first time we see Iris Gaines (Glenn Close) she has a halo around her. The same halo  is seen before Hobbs hits his last home run.
At the beginning of The Natural, Hobbs tells Harriet Bird (Barbara Hershey) he is going to be the best ball player to ever play the game. She then shoots him in the chest. One would think that would be a humbling moment for anyone. However, pride is a strong element in many fables and Hobbs is in a fable.  It's not until the end of the movie Hobbs realizes  being the greatest isn't what life is about. Fable elements through and through.
No webs, no explosions, and no gore. Sam Raimi's For the Love of the Game has none of the elements that make a Raimi film a Raimi film.  In fact, if you're one of those people who don't bother reading credits you may not have known it was a Raimi film. Instead, Raimi has given us a film strong on story and character.
Pitching what could be his last game with the Detroit Tigers, Billy Chapel (Kevin Cosnter) reflects back on the love of his life who is leaving him for a job in London. While doing so, Chapel is on his way to complete a feat that is rarely seen in baseball (In fact, it's only happened 23 times).
It's a romantic movie, it's a romantic baseball movie. Raimi hasn't come close to making another film better than For Love of the Game.
"If you build it, he will come." These words have been spoofed and lampooned more times than I care to count, but nothing comes close to the original source, Field of Dreams. Most people have seen the movie about Ray Kinsella, an Iowa  farmer, who hears a voice that sends him off on a crazy adventure in the hopes Shoeless Joe Jackson (Ray Liotta) will come back to play baseball on the field he made in his cornfield.  What happens is something completely different and wonderful.
If I had to sum up this fantastic (I mean that in every sense of the word)  movie it would be "Believing is seeing."  When you believe you will see the magic in Field of Dreams.
Tie Goes to the Runner: John Sayles's well-crafted tale of the 1919 Black Sox scandal in Eight Men Out,  Charlie Sheen before he was winning in Major League, John Goodman captures Babe Ruth in The Babe, stay for the credits in A League of Their Own,  and Pride of the Yankees for a straight baseball story about Lou Gehrig.
Thrown Out at Home: Sugar is strong in the first two acts, but doesn't get the save in the third act.
What are your favorite baseball movies? Let us know in the comments section.