The Comedy Stylings Of An American Werewolf In London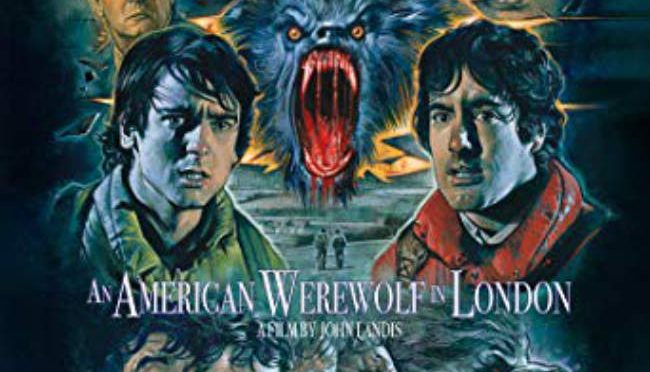 Arrow Video just released An American Werewolf in London on Blu-ray with a 4K restoration of the movie. Check out our thoughts and review.
An American Werewolf in London
By now it's pretty much a consensus An American Werewolf in London is not only a classic werewolf movie but a classic horror movie. Drop your horror fan card off at the door if you haven't already seen it. It's been almost 38 years since it was originally released. In that time it has been released on VHS, laser disc, DVD and Blu-ray. Sometimes the movie has even been released on the same format multiple times under names like "Restored Edition" and "Full Moon Edition." So, you've had your chance.
Yes, An American Werewolf in London is a classic horror movie. It's a horror movie John Landis wrapped inside a comedy movie. Before making a horror movie Landis directed the comedies Kentucky Fried Movie, National Lampoon's Animal House and The Blues Brothers. Comedy was in his director's DNA so it was only natural there would be some comedy in his next movie after The Blues Brothers. It's the comedy that makes An American Werewolf in London so deceptive as a horror movie.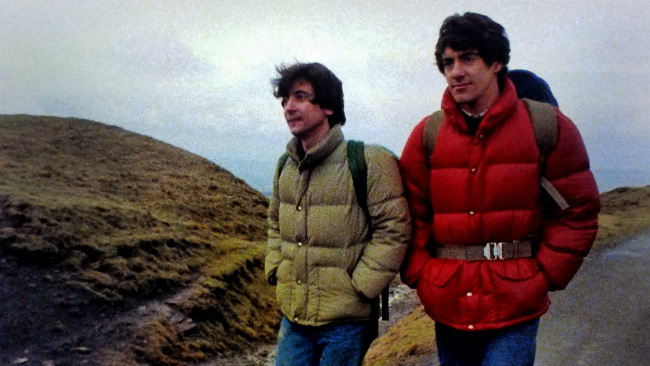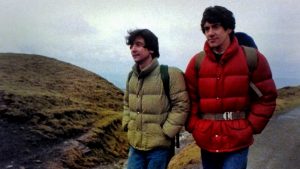 The comedy starts out light. Jack (Griffin Dunne) and David (David Naughton), two American backpackers, climb out of a truck full of sheep. Some jokes are made before heading down the road and the two friends talk about Debbie Klein. The lighthearted banter between the two is a story telling device to establish the fact the two have been friends for awhile. It's also the first time they're told to stay on the road and to avoid the moors.
As Americans who travel over seas are known for doing Jack and David insult the locals at the pub. Once again they're walking and warned to stay off the moors. The patrons of the Slaughtered Lamb fall into a parlor silence as each one convinces themselves it wasn't murder letting the two walk out the door. The laughter that filled the pub only moments before disappears as if it never existed.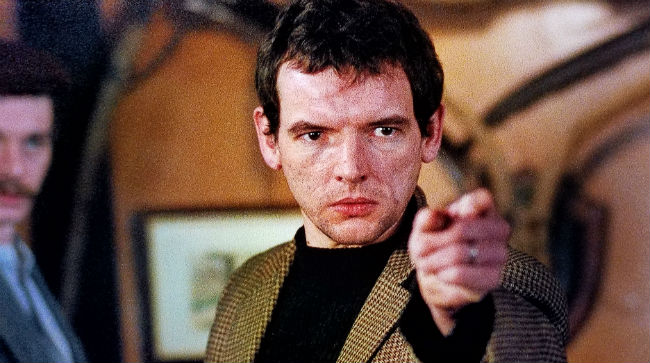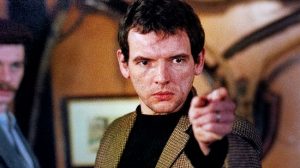 The cuts between the Slaughtered Lamb patrons defending their actions and Jack and David running from howling only intensifies the upcoming scene. Jack is mauled to death by a werewolf. David, who tries to help Jack, is also attacked. However, David survives the attack only to carry the curse of the werewolf.
Jack returns to David while he's in the hospital. After he is through telling David about his funeral Jack drops the truth to David about his curse and how he will have to suffer in limbo. Jack tells David to kill himself. Telling his friend to kill himself is an abrupt segue from complaining about Debbie Klein crying into someone else's shoulder at his funeral. It's abrupt but it works. Griffin Dunn's subtle change in tone from jovial laughing to seriousness makes the scene work.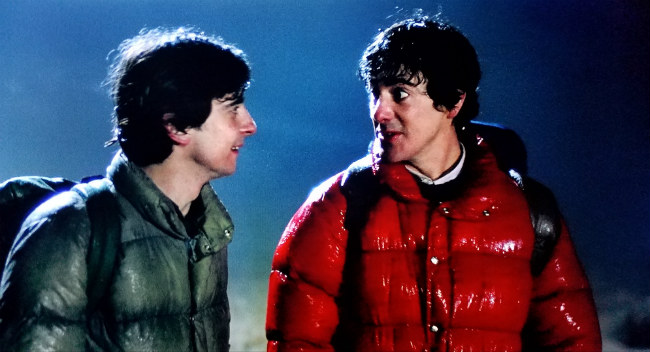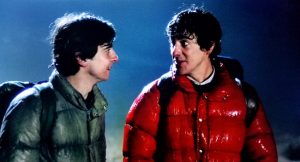 This isn't the last scene we will see with David talking to a dead Jack. It gets more ridiculous the more we see him. Rick Baker, one of the best special effects make artists in the business, designed Jack in the hospital to look like a fresh kill. Jack will appear more decomposed as An American Werewolf in London moves through to the second and third act.
It's scenes like David talking to Jack in the hospital and at Alex's flat that set up the horror. One moment we're laughing at David calling Jack "walking meatloaf." As viewers we've settled into a nice comfort zone. An American Werewolf in London has been set up as a comedy.We could have been happy with that but then David starts to transform into a werewolf. Naughton's transformation into a werewolf is one of the best werewolf transformations put on screen. It's also one of the most painful.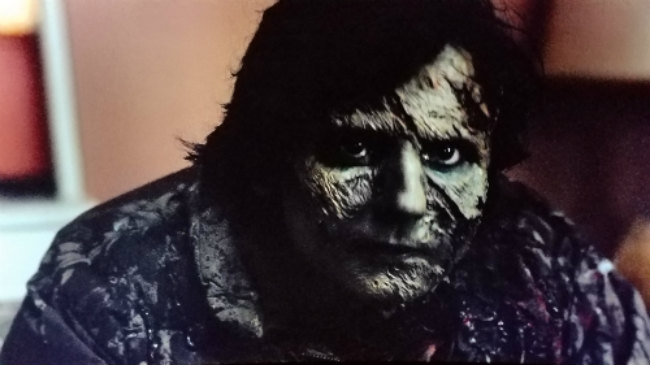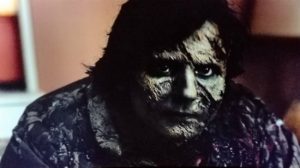 After that nothing is funny as werewolf David kills six people. In the morning, David finds himself naked in a wolf cage at the London zoo. Naked he makes his way back to Alex's flat. It's a version of the walk of shame seen in comedies, but without the sex.
Finally, David meets the victims of his nocturnal outing inside a porno theater. Like Jack, each of his six victims are undead and wanting David to kill himself. Each one offers various ways he could kill himself. One says use a gun, another says to electrocute himself, and another says to jump in front of a train. They say it with laughter, but it's anything but funny. It's gallows humor at its finest. Even the movie being shown is a comedy, a comedy porno.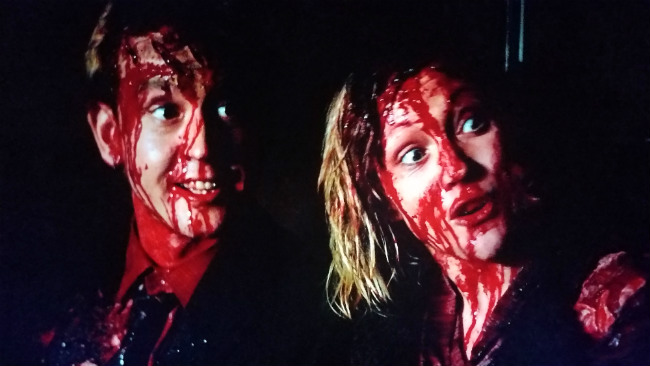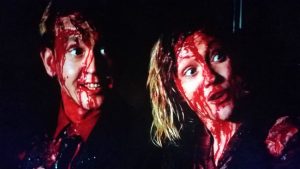 All these moments of comedy weren't meant to liven the mood of the horrific scene that proceeded it or followed it. These moments were to set us up for the big finale. No, we're not talking about the crazy car crashes in Piccadilly Square. We're talking about the moment before werewolf David is shot dead.
Alex tries desperately to save the man she loves. The comedy is stripped away. This is serious. Alex fails to save David. He's shot dead in an alley. As soon as his dead body is shown the movie cuts straight to the end credits. Viewers don't have time to process David's death.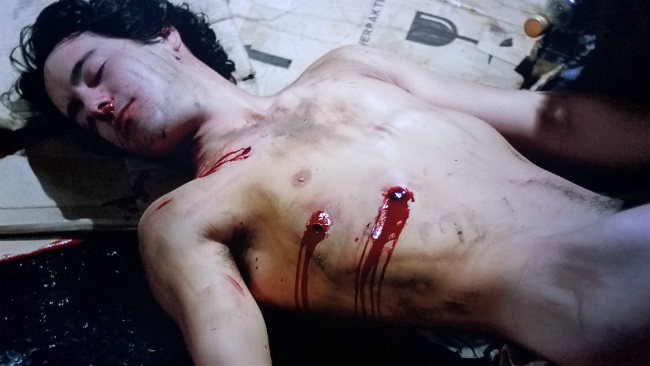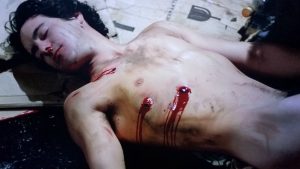 If you still have not seen An American Werewolf in London you're in luck. Arrow Video has released it on Blu-ray. It's been restored to 4K brilliance. Now is the time to watch An American Werewolf in London for the first time or for the hundredth time.
EXTRAS
Arrow Video knows how to put together extras for their Blu-ray releases. An American Werewolf in London is no exception. Most of the extras have been culled from other releases. However, some of these older features can't be found anywhere else.
The commentary track with Griffin Dunne and David Naughton has been taken from another source, but the entertainment value of the two bouncing stories off of each other is still entertaining.
I Think He's a Jew is a video essay by Jon Spira. Spira directed the Star Wars documentary Elstree 1976. Elstree 1976 is a nice documentary about the actors and extras who don't get the Star Wars limelight like the main actors. It should be required viewing for every Star Wars fan. In I Think He's a Jew Spira does some heavy lifting to argue An American Werewolf in London is actually John Landis's "Jewish movie."
Paul Davis's Beware the Moon is also included. It's a thorough documentary on An American Werewolf in London. 
Casting of the Hand, I Walked with a Werewolf, and interviews with Rick Baker and John Landis are older featurettes but provide enough entertainment to warrant their inclusions on the Blu-ray.
NEW EXTRAS
Mark of The Beast: The Legacy of the Universal Werewolf is really nice round up and history of both Universal monsters The Wolf Man and Frankenstein.
Commentary track with Paul Davis, who directed the already mentioned Beware the Moon, doesn't add anything new to your knowledge of An American Werewolf in London. It seems Davis repeats what has already been said by others. It's not bad, but skip this if you're limited on time.
An American Filmmaker in London is John Landis reminiscing about his time in England and making An American Werewolf in London. If you take anything from this it's that John Landis seems like a lovable goof ball or he's the uncle who will embarrass you at family gatherings without having a clue that you're embarrassed.
Wares of the Wolf  is a quick show and tell of props used in the movie. It's entertaining if you like movie props.