Halle Bailey recently made news when she was cast to play Ariel in Disney's live action remake of The Little Mermaid. Instead of people celebrating a talented young actress landing a role which will more than likely propel her into stardom many people were mad. The casting of an African-American girl in the role of Ariel would ruin their childhood. What these people don't understand, other than the fact they sound ignorant and bigoted, is mermaids were never lily white red heads with big blue eyes. Quite the contrary.
Mermaids come in two classes. There's the hot, sultry mermaids made famous in paintings. Then there's the wicked mermaids whose only purpose is to make sailors lives a living hell. Homer tied himself to his ship's mast so he could hear their call without wrecking his ship.
Tales of mermaids date as far back as 1000 B.C. Very few of these tales were of the kind you would want to tell your kids before bedtime. Even Hans Christian Andersen's The Little Mermaid wasn't what we would call "family friendly" today. Disney changed all of it with its musical version of the story.
But there are more mermaid movies than just The Little Mermaid or its forthcoming live action movie. Sit back as we look at some of our favorite mermaid movies.
Blue My Mind
( a splash of spoiler ahead) Blue My Mind is a pretty straight forward story. Teenager Mia is the new girl in school who quickly seeks out the bad kids in the class. Her home life is not the idyllic place to grow up in. Right around the time Mia has her first menstrual cycle things in her life really start to spiral out of control.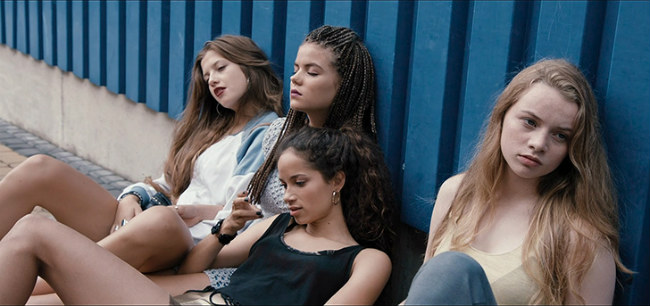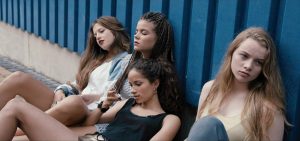 Slowly over the course of the movie Mia transforms into a mermaid. First her toes start to web together. Gills grow on her sides. In between mutations Mia is haunted by memories of her as a child looking out towards the ocean. Mia starts to munch on her mother's prized fish. Before the movie is over Mia transforms into a fully formed mermaid.
Director Lisa Bruhlmaan's first feature film could be doubling as the changes a young woman goes through on her way to becoming a woman. Except, it's hard to get around how spoiled Mia and her new friends which makes relating to them almost impossible. Teenagers can be rotten. They can be spoiled and more often than not most teenagers think the world revolves around them. The teenagers in Blue My Mind take things to a whole new level.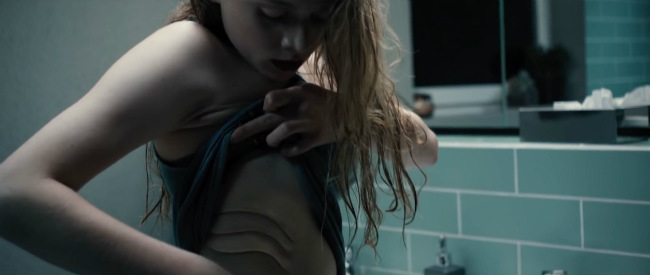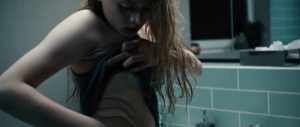 Although Bruhlmann tries to extract empathy from the audience it's difficult to feel anything for Mia or her friends. It's one party after another, drugs, and shoplifting. It's not the canvas to paint a moving story of a young girl's journey into womanhood or mermaidhood.
There is a certain sympathy, or empathy, towards Mia as she becomes a full fledged mermaid. The physical and mental pain Mia goes through is very palatable. In a cringe worthy scene Mia tries unsuccessfully to cut the webbing between her toes. Overall, it's not the Disney's Little Mermaid we see Mia turning into but it's also not the beast of legends.
Blue My Mind leaves a lot of questions unanswered. Who are her real parents? Her mother tells Mia in no uncertain terms she's definitely her mother. There are doubts though her mother is telling her the truth. If her parents are in fact her biological parents why would they not know about Mia's impending mermaid transformation?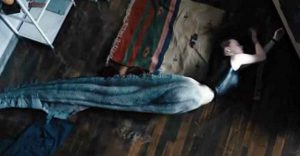 Finally, there's the question of why Mia has memories of being at the ocean. It's not memories of a family vacation or memories that seem especially happy. Yet she stares at the ocean never really making a movie to go into the water.
Blue My Mind may appeal to fans who like a coming of age story. Although Mia and her friend Gianna start the movie as typical bratty teenagers their journey changes them for the better. By the end of the movie they both realize there is something more in life than selfies and booze filled parties.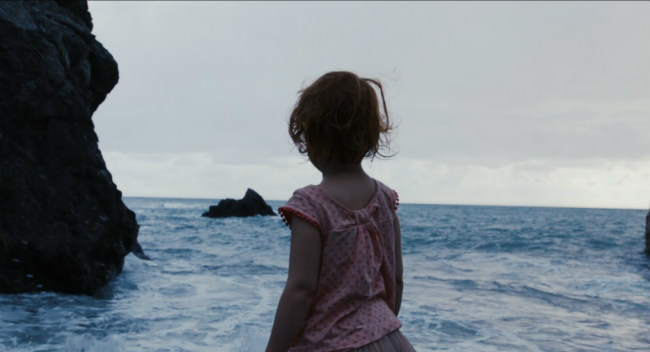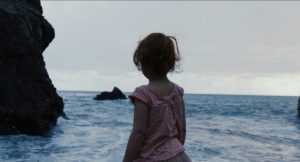 B+
Honorable Mention:
For those who need their mermaids lily white there is always Splash. Splash is the story of a little boy who meets a little mermaid only to lose her until she finds him years later in the big city. Now it's up to Allen (Tom Hanks) and his brother Freddie (John Candy) to save the beautiful Madison (Daryl Hannah) from the clutches of mad biologist Walter Kornbluth (Eugene Levy).