Rewind: The Destructive Nature of Cults in Martha Marcy May Marlene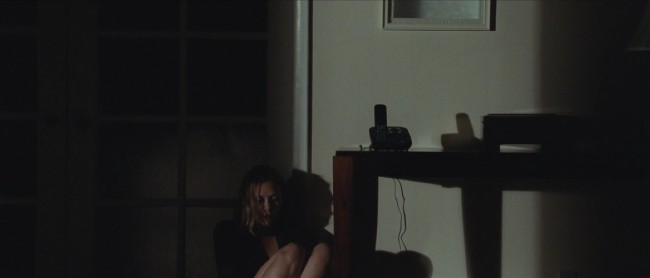 We've all seen documentaries on cults. Whether it's a documentary on Jim Jones taking advantage of the poor and vulnerable or Keith Raniere taking advantage of the rich and vulnerable there's a documentary for it. Charles Manson has own sub-genre in the documentary field. Most of these documentaries only focus on the cult leader. Very few of focus on how the cult affects surviving members. Although not a documentary, Director Sean Durkin's Martha Marcy May Marlene offers a stark reminder that just because a person leaves a cult it does not mean they're okay.
Before landing the role of Scarlet Witch, Elizabeth Olsen starred in a string of independent features that were largely ignored by the film going public. Such was the case with Martha Marcy May Marlene. It received some critical acclaim but in the days before Scarlet Witch the movie going public wasn't too interested in Olsen or a movie about a cult.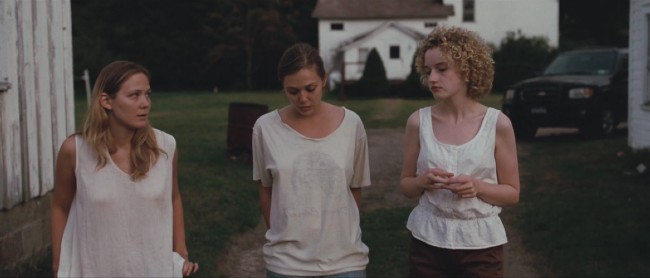 When we first meet Martha, Olsen, she's living on a farm setting a table for a meal. Shortly after a silent meal where men eat first and then the women she runs from the farm into the woods. If it's not obvious that she's running away from a cult it becomes painfully clear during the movie. Martha may not be at the farm anymore but the farm has not left her. 
Martha, after two years away, reunites with Lucy,her sister, who is living with her new husband in a rented house on a lake. Over the course of the movie Martha becomes more paranoid while also becoming a destructive force in her sister's life. She sees a man on the other side of the lake staring at her while she swims. Acorns falling on the roof are cult members throwing pebbles at the house. The man serving drinks at a dinner party is a cult member who's come to take her back to the farm.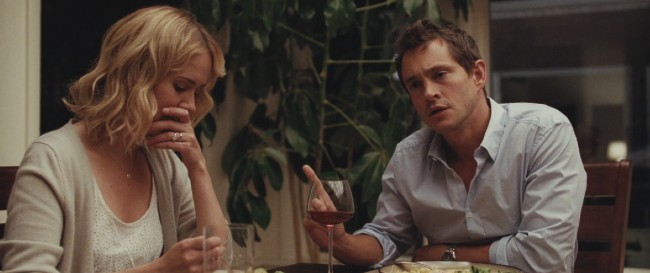 Olsen is convincing as a woman who is trapped between two worlds- the cult and her sister and brother-in-law's world. Patrick, the cult leader, kept her in isolation on the farm for his own needs. Martha isolates herself from her sister and brother-in-law's world. Why does Martha choose not to tell Lucy about the cult? It's not unusual for a person who has suffered a trauma to keep it to themselves. The fear of what others will think and their judgments play a large factor in keeping silent. Martha's self-isolation makes things extremely difficult for the three of them living under the same roof. 
But is she paranoid? The man across the lake is wearing the familiar jeans and white t-shirt of a cult member. Martha and other cult members threw rocks at a house to find out if someone was home before breaking into it. She breaks the window out of a jeep that looks like the one from the farm. Durkin uses flashbacks weaved through the movie to make a convincing argument that she may not be paranoid.
The interesting thing is that the cult doesn't bring her back to the farm when they have the chance. Watts, a cult member, has Martha cornered in a diner not too far from the farm. There's an implied threat of violence if she doesn't return, but Watt leaves without her. The cult doesn't seem to be interested in her. Real life cults have something, usually children, to hold over a their member's heads to keep them in line. Martha has neither children or wealth the cult can use to bring her back into the fold.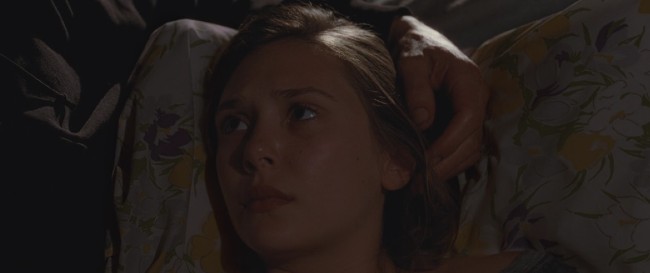 Before Martha leaves, a new member is brought to the farm. Although it's not what spurs her into leaving, the point is made that Patrick can lure young women to the farm. Martha's not even needed at the farm to fulfill Patrick's needs. If it weren't for the phone call she makes to the farm there wouldn't have been a hint that the cult knew where she was living. Yet, Martha is convinced they are coming for her.
In From Dusk Till Dawn John Hawkes as Pete the liquor store clerk yells to the Gecko Brothers over a hail of bullets that he should have won an Oscar for his performance convincing the sheriff to leave the liquor store being shot up. Fifteen years later Hawkes' line would prove almost prophetic when he was nominated for his first and only Oscar for Winter's Bone. Martha Marcy May Marlene is just one more example of why Hawkes is one of the best character actors working today.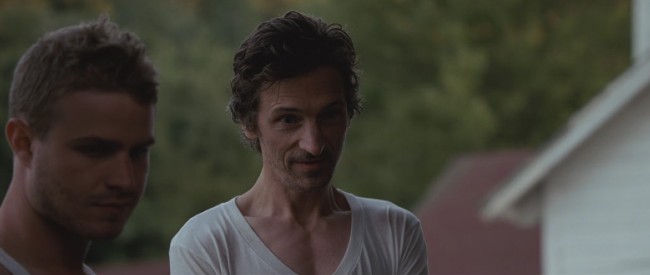 In Martha Marcy May Marlene Hawkes plays Patrick, the cult leader. Hawkes doesn't have the classic Hollywood good looks, however, he doesn't need them to convince us that he can lure people to him and convince them that they need him more than he needs them. Hawkes's Patrick is charming but at the same time there's a violence about him right under the surface. 
Patrick uses sex to control the women. The older members happily drug the new members for him. Martha is told that her "blessing" is a good thing even though she doesn't remember anything that happened. It's rape but he's managed to convince them all that it's not. Once Patrick has them under his control he can convince them to do anything including murder.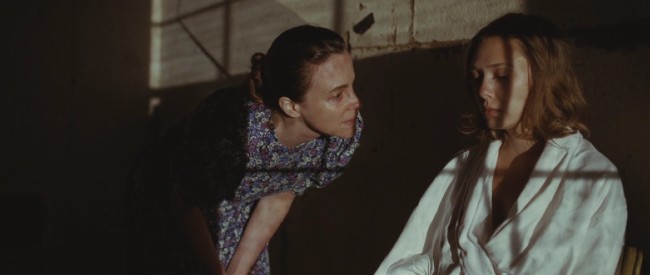 He calls her Martha Marcy May because she looks like a Marcy May. He tells the others to call her by the name further driving a wedge between Martha and any identity she had before joining his cult. When Martha starts answering to Marcy May is when she is totally under his control. His presence is felt in every scene because Olsen is so convincing as someone who has gone through a trauma and hasn't healed from it. 
The ending is ambiguous. Ted does almost hit someone as they are driving to get Martha help, but is it someone from the cult? Does it matter if it is or isn't? By the end of the movie we get the feeling that even if Martha makes it to the care facility she won't make it on the outside. Perhaps she doesn't want to be on the outside. It's not a happy ending.