Love him? Hate him? Either way it looks like you'll be seeing a lot more of Adam Sandler on Netflix. Sandler recently signed another four movie deal with Netflix. But is that such a bad thing?
There was a point in time Sandler could do no wrong. Everyone loved him during his time on Saturday Night Live. He was the guy who wrote and sang silly songs for the Weekend News. He was Opera Man and the Cajun Man. We laughed at his Canteen Boy while Alec Baldwin was making overt sexual advances towards him. He was Lucy Brawn who made shopping at the Gap a funny experience. How could you forget Brian who lamented over his ex-girlfriend on The Denise Show?
The natural progression for Sandler was to take his comedy stylings to the big screen. Waterboy, Billy Madison, The Wedding Singer, Happy Gilmore, and 50 First Dates were hits for Sandler.  All these movies shared a similar theme: Sandler plays the typical average-man who ends up getting the girl of his dreams by the end of the movie.
The point is these movies had heart and they were funny. Somewhere along Sandler's career path he forgot this fact. So, we were subjected to Pixels, Grown Ups 1 and (God help us) 2, Blended, Just Go With It, Jack and Jill and That's My Boy.
Not only were these movies devoid of the things we liked about Adam Sandler, fans were subjected to recycled jokes and cardboard acting. Of course, Sandler brought all his friends along. Grown Ups and its sequel seemed like nothing more than excuse to pay Sandler and his friends to hang out. That idea sounds funny. It's a truly funny cast. Except, Grown Ups wasn't funny and neither was the sequel.
Then came Sandler's four movie deal with Netflix. His first Netflix movie, The Ridiculous 6, was met with criticisms and scandal. Native American cast members walked off the set over his reported depiction of their culture and Rose McGowan made a not so subtle tweet about the wardrobe she was required to wear at an audition.
These things aside, not that we do not consider these matters important, The Ridiculous 6 was mediocre at best. Think of it as a spoof of old Western movies like The Magnificent Seven, The Professionals, or The Searchers. Now add in a cast of characters,all played by Sandler's friends, dullards and bad guys, a plot loosely put together and you'll have The Ridiculous 6.
To be fair, it is called The Ridiculous 6. So, it shouldn't be too much of shock as you watch Taylor Launtner flounder around in the worst depiction of someone with mental challenges.
The Do-Over, co-starring friend and SNL co-star David Spade, saw Sandler's return to the action-adventure genre (If you don't count Pixels. And why would you?). The last action movie starring Sandler (Again, not Pixels! Let's pretend that mess never happened.) was 1996's Bulletproof. Fortunately, The Do-Over was heads above Bulletproof and it was better than a lot of Sandler's previous outings. However, Sandler's performance as a wannabe tough guy doesn't come naturally to Sandler. In a ironic twist, David Spade actually delivers the best performance in a movie that has a difficult time balancing comedy and action.
Netflix recently released the third of Sandler's four movies, Sandy Wexler. Sandler returns to his role of average man, but this time as the self-proclaimed "king of Hollywood." Wexler is a small time Hollywood agent who discovers Courtney Clarke. Clarke, played wonderfully by Jennifer Hudson, goes on to be a superstar singing sensation.
The jokes are easy- Don't buy Apple or Starbucks stocks. These jokes are suppose to be funny because who knew in the early 90s Starbucks and Apple stocks would go through the roof? Except, hindsight jokes are rarely funny and they're not funny delivered through Wexler's speech impediment.
Sandler's friends  (Ranging from Chris Rock to Judd Apatow and even a from out of nowhere Vanilla Ice) retell stories of Wexler's past to an off-screen camera. It's not until the end of the movie we learn that these are all Wexler's old clients and they're part of Wexler and Clarke's wedding.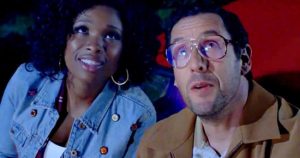 Sandy Wexler feels like a return to Sandler's early films. The movie may stumble at times and other times it' not funny (A heart attack played for laughs fails to deliver any), but the end of you'll find a movie with a little bit of heart.
Sandler's Netflix offering don't seem to buck the trend of fair to middle comedy movies. Sandler's next Netflix movie is The Week Of which co-stars Chris Rock. Judging by the plot, Rock and Sandler play fathers whose children are marrying each other, we won't be blown away by anything new. For years, Sandler's movies have felt like a joke only Sandler and his friends are in on. It would be nice if Sandler decided to let us all in on the joke so we could enjoy his movies as much as he does.