South Park Gets Gentrified in The City Part of Town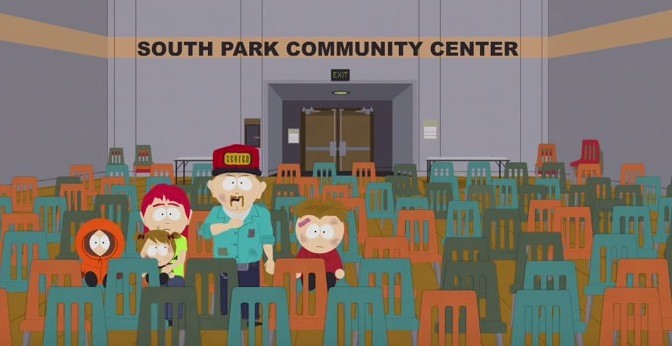 South Park tries to change the town's image by enticing Whole Foods to build a store there.
South Park continues the slow build with this weeks episode, "The City Part of Town."
Mr. Garrison's antics from "Where My Country Gone" gave the city a bad name. Relentless roasting from Jimmy Fallon sparked South Park's City Hall to gentrify the run down part of town. In South Park, that's Kenny's house.
The idea behind the gentrification is to get a Whole Foods to open a store in town, hoping it would change the town's perception.The town builds fancy restaurants, condos, apartments and luxury homes around Kenny's house, which was left standing to keep the area's "charm."
What followed was a sad look at gentrification. It didn't force Kenny and his family to move, but it was disheartening to see them surrounded by a bunch of services and amenities they couldn't afford.
That spurred Kenny to get a job. On the other side of town, City Wok felt an economic squeeze from the new area, called SodoSopa. The Chinese owner, who's really a crazy white guy, hires Kenny and a slew of other kids to make City Wok more attractive.
Throughout the episode, there were cheesy commercials promoting SodoSopa. Kenny and the City Wok guy create their own, which prompts a child/adult brawl in the streets. This is in front of the Whole Foods representative, who like the PC bros from the season premier, focuses on the town's attempted pretentiousness and not the street fight in front of him.
South Park gets the Whole Foods, which is built next to City Wok. The new traffic pattern turns SodoSopa back into the shitty part of town.
There were chuckles here in there, but this episode was more commentary on a city's life cycle than in-your-face funny. There was a nice meta joke in the first act when Cartman said it wasn't nice to make fun of people, a criticism South Park has had numerous times in the past. But there wasn't much after that.
The final scene in this episode was a touching moment. Kenny buys his little sister a new doll. It was sweet because she's was the motivating factor for Kenny to find a job. She wanted to get some ice cream, but her dad pointed out they couldn't afford $10 ice cream.
"The City Part of Town" was light on the laughs and felt like a slow build toward something bigger in a future episode. C+