(Watch out! Spoilers ahead!)
We've watched and rewatched a lot of horror movies over the Halloween season. Some were old, some were new, and some were classics. However, none was as much fun as Love in the Time of Monsters.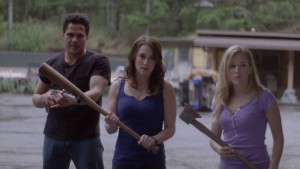 The story revolves around two sisters (Carla and Marla) who head off to Uncle Slavko's All-American Lodge for some rest, relaxation, and to surprise Carla's fiance, Johnny. Of course, none of this happens. We wouldn't have a movie to watch if everything went according to plan. Fortunately for us, someone's been pumping toxic sludge into the lodge's pond. The pond is the source for all the mayhem to follow.
It's fun mayhem, campy chaos on an independent budget. Don't let this scare you away. There's a lot of production value in the movie. The characters are fun as well as the situations they find themselves. For example, Doug Jones's Dr. Lincoln solving the problem of the toxic, zombie Bigfoots (or is that Bigfeet?) and being able to formulate a cure at the lodge. You don't need to rationalize it or try to figure why. It's part of the fun of LToM.
You're not going to watch Love in the Time of Monsters through your hands covering your face like you would an Exorcist or Texas Chainsaw Massacre. That's okay because the creative forces behind LToM want you to see everything going on in the movie.
There's a lot to see in the movie. It packs in everything we like to see in a horror movie from people being impaled to being blown up and eaten alive.
LToM adds something different to the mix. Where else are you going to see a chest bursting squirrel, a la Alien, a mutated moose, ravenous raccoons, and feasting fish? Sure, there's a little T and A in the movie, but it only adds to the fun of the movie. It reminds one of some of the campy movies of the 80s and the animal revenge movies of the 70s.
How could you ever forget the toxified Bigfoot players? You can't, that's how. Especially when one of them is played by Kane Hodder (He was Jason for Pete's sake!).
Love in the Time of Monsters is the type of movie that only comes around once in a blue moon. It's a good thing too. It's not that LToM is a bad movie, far from it. If movies like this happened all the time we would be accustomed to them and when movies like this did come around we wouldn't care. We care about LToM and so should you.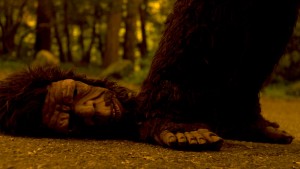 Love in the Time of Monsters is available for streaming, download, and on DVD.
(P.S. No, we haven't forgotten about the "love." It's just that we're guys. We like the gross and the gore.)