It's no secret that I'm not a big comic-book movie fan. I don't hate comic-book movies, I'm just not as big of a fan as some people. There's a place for them in cineplexes malls across the nation. Bright pictures, great special fx, explosions, and a turn-off-your-brain story make for great Saturday viewing.
Let's be honest though. The comic-book movie has seen better days. Look at the most recent Avengers movie. It's two hours of who's going to be on what side of government control that turned out to be nothing more than a revenge story. As far as revenge stories go it wasn't even a good revenge story. The real story, the better story, were the four mega bad ass super soldiers killed off rather easily by Zemo (So, okay, they weren't really all that bad ass).
The major problem with the comic-book movie is there's not enough time in a movie that's basically a trailer for another movie (Spider-Man: Homecoming, Black Panther) to develop story or character. The most recent Avenger's movie also tried to do too much. Was it a serious a conspiracy movie? Was it trying to be a comedy?  Two comedians (Spider-Man, Ant-Man) made it seem like they were trying to "lighten" the mood.
Yes, the above statements are not about the most recent Avengers movie, but about Captain America: Civil War. Which only proves the point that comic-book movies try to do too much and are limited by the two-hour, three-act format.
Television on the other hand is the perfect fit for comic book properties. Why? There's time to develop a long range story, plot, and characters. Netflix has had a lot of success with Daredevil, Luke Cage, and Jessica Jones. The CW has also had success with their interwoven super-hero series. FX looks like it will has a hit with its new series Legion.
Can you imagine waking up one day and having super powers? Not cool super powers like flight, or super strength, or even laser beam eyes, but the mental kind of super powers. Waking up one day being able to read people's minds and not being able to control the power would mess with a lot of people's head. This is the premise of the first episode of Legion.
Legion is not shaping up to be your typical comic-book television series. Much of this has to do with creator Noah Hawley. Most viewers won't be interested or care who developed Legion, but they should be interested. Hawley developed Fargo for the small screen.
If you've seen the series then you know how quirky it can be at times. You also know how character driven the series is while it still maintains a crazy plot driven by actions that have far reaching consequences. Hawley's taken his Coen Brothers television style and applied to Legion with great success.
Like Hawley's other series, the characters make the series just as much as the cinematography, the direction, and the special fx.
Dan Stevens (Downton Abbey) plays David Haller, the person who woke up one day with telepathic and telekinetic powers. In the first episode, Stevens plays the psychologically challenged Haller to perfection. He' not over the top crazy, but walks the edge. By the third episode, Haller is a little more adjusted, but we're still not sure if he's not completely crazy.    
Syd Barrett (Rachel Keller, Fargo) is Haller's love interest. However, she seems to be more than just the "love interest." When things get crazy, and they get crazy a lot in Legion, she seems to be the calming presence. She may be more than in future episodes, but what we do is that she can't be touched by anyone or touch anyone.
When she's touched by someone she switches bodies with the person. In the wrong hands body switching makes for a bad 80's comedy. Luckily, Legion is in the right hands. We're not subjected to any long winded scenes of the characters being freaked out by their circumstances.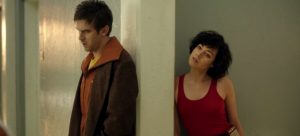 The stand out in Legion is Aubrey Plaza. Plaza plays Lenny Busker. By the second episode we know she's dead, but she keeps showing up in Haller's head. Lenny may be a manifestation in his head, but in three episodes she seems to be more of his anti-Jiminey Cricket. Lenny is probably Plaza's best role to date.
A lot of viewers will concern themselves with where Legion falls into the X-Men timeline or if it's "canon." It's a legitimate question. Haller is broken out of Division 3 by Dr. Melanie Bird (Jean Smart, another Fargo alumni) and brought to a place a lot like Charles Xavier's School for Gifted Youngsters. Bird is Legion's Xavier. Except, Bird's school is more on the hippier side than Xavier's school.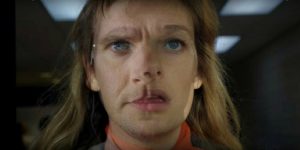 If we try to compare Bird's hippy school with its memory artists and ponds with the big screen Xavier school we're going to miss one of the best new series on television. There's more happening in just three episodes than in all the X-Men movies put together. It looks like a lot more is going to happen too. Who's the bloated man with the yellow eyes? How will Haller save his sister? Will people be wearing the Angriest Boy in the World costumes this Halloween?
We suggest you catch up on any episodes you may have missed. Then watch the rest of the series. It airs Wednesdays on FX. Mark you calendar, folks.