So, John and I both joined the Marvel Collector Corps for the first month. My chief reason to join was for the Hulkbuster Funko exclusive as I am sure many Funko collectors were prone to do. I walked away pretty happy with my purchase with one exception.
First of all, let's dig into the reason I purchased the box – the Hulkbuster exclusive. I have well over 50 Funko Pops in my collection and this one right out of the box told me one thing – this is my new favorite.
It feels different than other Pops in that they are clearly of the Vinyl material. This one has a different weight and feel to the exterior of it. It is also more in depth in the design than most. The pain is also pretty cool in that it has the metallic sheen to it.
All in all, this item by itself makes me happy to have purchased the box.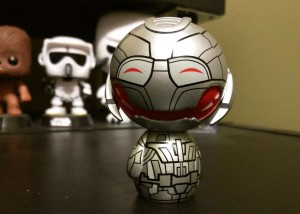 The next item out of the box was the Funko Dorbz Ultron. Funko appears to be about to make a push on the Dorbz items so the fact that this was in the box was no real shock. I will say having an Ultron version is a little weird just because you are trying to make the villain of your upcoming movie look cute. But, I digree. It is still a pretty cool looking item and again am happy to own it.
Just those two items pretty much had me at the break even point of my $25 investment, but of course there were still a few items left in the box.
There was the alternate cover first edition of the Avengers – Guardians of the Galaxy comic series. I would have been more impressed if there had been a first edition of a recurring comic for just the box in it, but I can understand if they are trying to protect unity in the box. (No picture taken)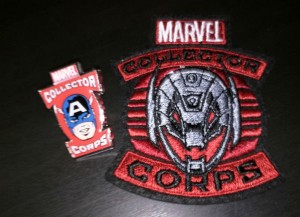 Next up we have the two commemorative items in the box. We have the pin and the patch. The pin features Captain America with the collector corps logo. Pretty happy with the look and design and it does not feel cheap.
The patch on the other hand I have two issues with. First, what in the world am I ever going to put a patch on – this one just feels like you are reaching. Second, this looks more like a Cobra Commander patch than it does an Ultron patch, but that may be just me.
Overall, they are cool little novelties, but I don't know if it is enough for me to keep me paying the $25 gate of entry for this box.
I did have one issue with the box itself. That was the t-shirt. I ended up with the Captain America versus Ultron shirt, which overall is a very cool design. However, I was very unimpressed with the size of the shirt. I bought the 3XL which is my size and it was very small. I gave it to a friend of mine who wears a shirt size smaller than me and he is worried it will be too small after a wash or two.
I am not saying that you have to cater to everyone in shirt size, but maybe next time not go with the athletic slim fit shirt because let's face it – as far as comic book fans go I will not be the only person wearing a larger size shirt.
Overall though, the design is great and if it had fit I would have been very pleased to wear it – maybe more as a gym shirt than anything, but definitely would have worn it.
Overall Review: Overall I thought this was a nice start to the Collector Corps box series. I was very pleased with the value I got in the box, although I question whether labeling it as $50 is fair. I will defintiely continue my subscription for now though, so they did do their job rather effectively in that regard.
Check out John's review as well. And oh yeah, I am the one who is excited to get a box full of Ant-Man swag. I am interested to see what they do with one that doesn't have a movie to center around.