It's no secret, I love movies and I love film (Before you get started, yes, there is a difference. 2001: A Space Odyssey is a film, Armageddonis a movie. The Thin red Line is a film, Hamburger Hill is a movie.) Like many of you, and movie critics world wide, I like to make Oscar predictions.
    However, there is one golden rule when predicting Oscars: Don't think like a movie fan, think like someone on the voting committee. Your love of a particular actor or movie will only cloud your judgment.
    I am going to predict Sunday's winners in the big 6 categories. You know, the ones they wait until the end of the night to announce to make sure people stay tuned in. I know how important a cinematographer is to a film. I know how an editor can make or break a film. However, many people don't know and don't care to know. So, I'll stick with the ones the majority of people like and know. 

 
    12 Years a Slave
. Why? Yes, it's a great film and the performances were awesome. However, it will win because it hits all the social hot buttons.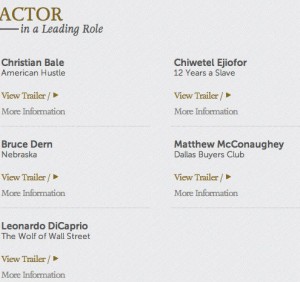 The actors nominated turned in some great performances in great movies. However, there are only two real contenders: Bruce Dern and Matthew McConaughey.
    If Dern wins it will be because of his body of work and the fact that he may never be nominated again. The Academy likes to give awards to actors who are near the end of their careers or have been slighted in the past.
    Paul Newman's win for The Color of Money is a perfect example. Newman had been slighted time and time again by the Academy so when he did win it seemed more like an apology than an award for best acting. Christopher Plummer had only been nominated once before he won his first Oscar. The man was Captain Von Trapp for Pete's sake!
    However, the winner will be McConaughey. It's his year. He's getting rave reviews for his roles in the Wolf of Wall Street and True Detective. Last year entertainment journalists couldn't stop talking about McConaughey's come back and what a great guy he is to be around. The Academy loves a down to earth actor who everyone can relate to and it loves a Cinderella story. McConaughey is this year's Sandra Bullock or Jennifer Lawrence.
    This year's nominees have been nominated a total of a million times. Okay,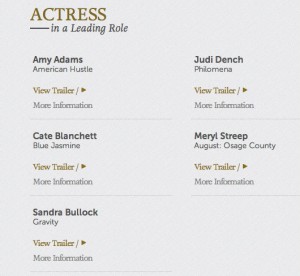 Meryl Streep and Judi Dench have been nominated a million times.
Judi Dench will win not because she was better than the other nominees, but because she's 1 for 6 and she's playing a real person. The Academy loves giving awards to actors who play real people. Daniel Day-Lewis, Forest Whitaker, Meryl Streep, Colin Firth, and Jamie Foxx are only a few examples of actors who won for playing real people.
Best Supporting Actor/Actress
    The Academy usually gives the best supporting award either to the up-comer-with potential or the seasoned actor who hasn't won anything in their long careers. Again, Christopher Plummer won his Oscar for a supporting role. Alan Arkin won for Little Miss Sunshine. Octavia Spencer won for The Help and Jennifer Hudson for Dream Girls.
    This year it will go to Bradley Cooper for American Hustle. He may not be seasoned or an up and comer, but neither are the other nominees. Last time he was nominated he was up against Daniel Day-Lewis. This year the category is not packed with a huge amount of talent.
    Hollywood always has and always will love Julia Roberts. Roberts will win because she's Julia Roberts.
Best Director

  One would think that if a director wins in the best director category then they should win the best picture. The argument makes a certain amount of logic. Clint Eastwood won Best Director for Unforgiven and it went on to win Best Picture. Ditto for Mel Gibson and Danny Boyle.
    However, Steven Spielberg won for Saving Private Ryan and lost to Shakespeare in Love for Best Picture. Ang Lee won Best Director for Life of Pi, but Argo won for Best Picture. Gladiator won Best Picture, but Steven Soderbergh won Best Director.
    The logic doesn't hold so don't expect Steve McQueen to win because 12 Years a Slave wins Best Picture. Steve McQueen is still a strong contender, but Alexander Payne will win best director.
    As an added bonus I will give you my predictions in the writing categories. I haven't been able to pin down any reasoning for why someone does or does not win in these categories. I am going solely on gut feeling.
    For Best Screenplay Adapted, I predict John Ridley wins for 12 Years a Slave because it's 12 Years a Slave. Woody Allen should win for Blue Jasminein the original screenplay category. However, if Alexander Payne doesn't win Best Director he will get the win for Nebraska.
    We can find out March 2ndif I am right or completely missed the mark.